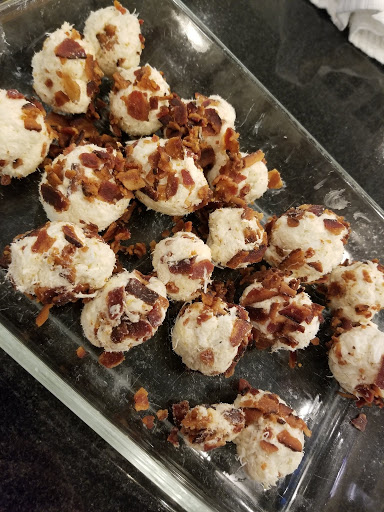 Bacon Crab Cream Cheese Fat Bombs
A savory take on a fat bomb. Good as an appetizer, meal addition or fat fueled snack if you're on the run.
Because of the crisp bacon, these are best directly after making but they do last in the fridge for a few days. We love to make them as apps and take them to potlucks for several reasons:
1) It gives us a ketogenic option to eat with others
2) They are a heavy dose of fat so if you stray to high-carb options later the impact is lessened
3) They are rolled in bacon. Need we say more?
We found the original recipe on Officially Gluten Free, but modified a bit for more flavor. Here's what we did.
Ingredients:
1 Pkg. 8oz Cream Cheese Softened
1/2 Pound Fresh Crab Meat
3/4 Cup Shredded Gouda (Officially Gluten Free used Mozzarella)
1/2 Tsp Finely Minced Garlic
1/2 Tsp Garlic Powder
1/2 Tsp Onion Powder
1/2 Teaspoon Pink Salt (We added this for a more savory flavor)
Pepper to Taste
10 Slices Bacon Cooked to a Crisp
Instructions:
Cook bacon until it is well done to your preference
Combine remaining ingredients in bowl until well mixed
Crumble bacon when cooled
Roll balls 1-2 tablespoon pending preference
Roll in bacon crumbles for topping
Enjoy!